Meet our Team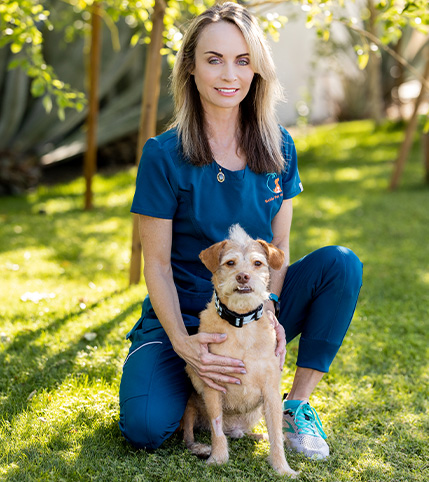 Allison C. Bradshaw, D.V.M.
Doctor of Veterinary Medicine, Kansas State University
A Kansas native, Dr. Bradshaw attended Kansas State University, where she earned her Bachelor of Science in Biology and her Doctor of Veterinary Medicine degree. After graduation, she moved to Southern California where she has lived and worked for the past 20 years.
Dr. Bradshaw decided to open Mobile Pet Vet, Inc. in January of 2020, after seeing a need for a more personal touch with her patients.
Outside of work, Dr. Bradshaw enjoys running, hiking, and reading. She lives with her fiancé, their daughter Gloria, cat Harvey, and dog, Stevie in Palm Desert.
They also love to travel- locally as well as more exotic places!
Rebecca
Customer Service and Scheduling
Rebecca was born in the San Fernando Valley, and moved to the Coachella Valley at a young age as her family yearned to escape the busy city life. She was raised with an array of animal exposure, from horses to farm animals, to dogs and cats. She began her veterinary career at the age of 18 with now 9 years of related experience.
At home, Rebecca has 4 grown African Sulcata Tortoises. It all began when she found what appeared to be a rock in the road… it was in fact a Tortoise! Outside of the animal world, Rebecca likes to go hiking, site seeing, and attend live music events.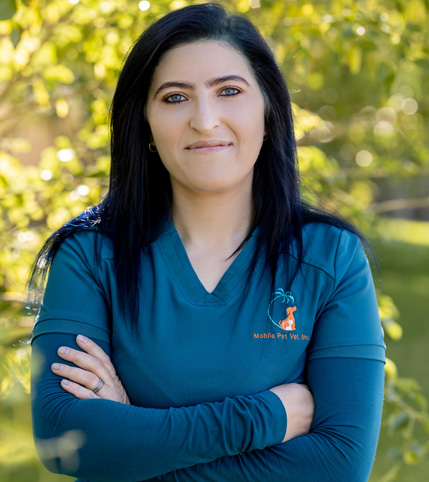 Alissa
Veterinary Assistant
Alissa was born and raised in San Diego. She has always been a huge animal lover and wanted to rescue every stray animal possible growing up! She attended Pima Medical Institute in 2017 to become a certified Veterinary Assistant and from there her career helping animals began.
At home, Alissa is a mom of two wonderful but crazy boys. She also has a senior white Boxer mix Kratos who used to be her beach buddy/adventurer but now is her retired old man who enjoys being at home, endless treats, and short walks.
Alissa enjoys going out anywhere adventurous as long as she can take her little crew with her!
Company
Mobile Pet Vet, Inc
Email: cvmobilepetvet@gmail.com
Phone: 760-423-3688
Territory
Mobile Pet Vet is currently offering in home stress free veterinary exams in: Palm Desert, Rancho Mirage, Indian Wells, La Quinta, Indio.
By appointment only.