Health Certificates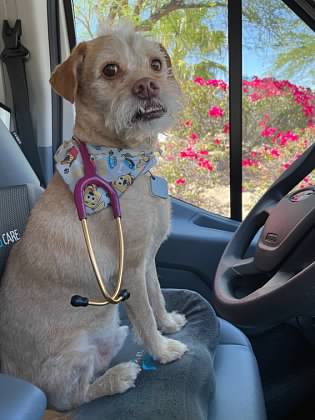 If you're planning to travel either domestically or internationally with your pet, Mobile Pet Vet can assist with the process by providing the necessary veterinary inspection documents for travel. Be sure to check with your airline or travel agency for any additional documents needed, especially for international travel.
Flying Domestically
If you're planning to travel with your pet by air in the United States, the APHIS 7001 form is required by most airlines within 10 days of travel. Your pet must be examined and deemed in good health prior to form being issued and have appropriate vaccinations. Some airlines also require an additional "Veterinary Health Form" to be completed by your veterinarian.
Flying to Hawaii
Hawaii is rabies free, so pets traveling to Hawaii require a series of rabies vaccinations, a rabies titer, a specific microchip and treatment for parasites in addition to several examinations by your veterinarian. You need to start this process at least six months in advance, and if you miss a step, your pet will be quarantined for 120 days once you reach Hawaii. Please find the link for domestic pet travel to Hawaii at the following: https://hdoa.hawaii.gov/pi/pq/travel-shipping-information/importing-animals-to-hawai%ca%bbi-from-the-u-s-mainland/
International Travel
If you're going to be traveling internationally with your pet, be prepared for some planning. To make the process easier you will need to check with your airline for their specific requirements. The USDA provides a list of requirements by country online to help. To avoid problems, it's a good idea to begin planning at least six months in advance of your trip since some country's requirements have less to do with your schedule and more to do with necessary vaccines, deworming's and rabies titers all within a specified time frame.
Back to services >>>
Company
Mobile Pet Vet, Inc
Email: cvmobilepetvet@gmail.com
Phone: 760-423-3688
Territory
Mobile Pet Vet is currently offering in home stress free veterinary exams in: Palm Desert, Rancho Mirage, Indian Wells, La Quinta, Indio.
By appointment only.